Storm Damage? Hail Damage?
Red Mountain Roofing is here for you.
Call Now.
(602)889-0113
We have a lot of experience handling major storm damage, including the worst hail damage.
We'll work with insurance companies to get your roof repaired quickly, giving you the security that your home is covered.
Don't fall for the storm chasers who won't be there for you a year from now.  Red Mountain Roofing is located here in Arizona, so you'll always have us close enough to handle any roofing challenge you might face when all of the storm chasers are gone.
Our work is 100% guaranteed.
Protecting homes since 1987
Licensed and Bonded: R.O.C. #262642
"Stay Dry With Us"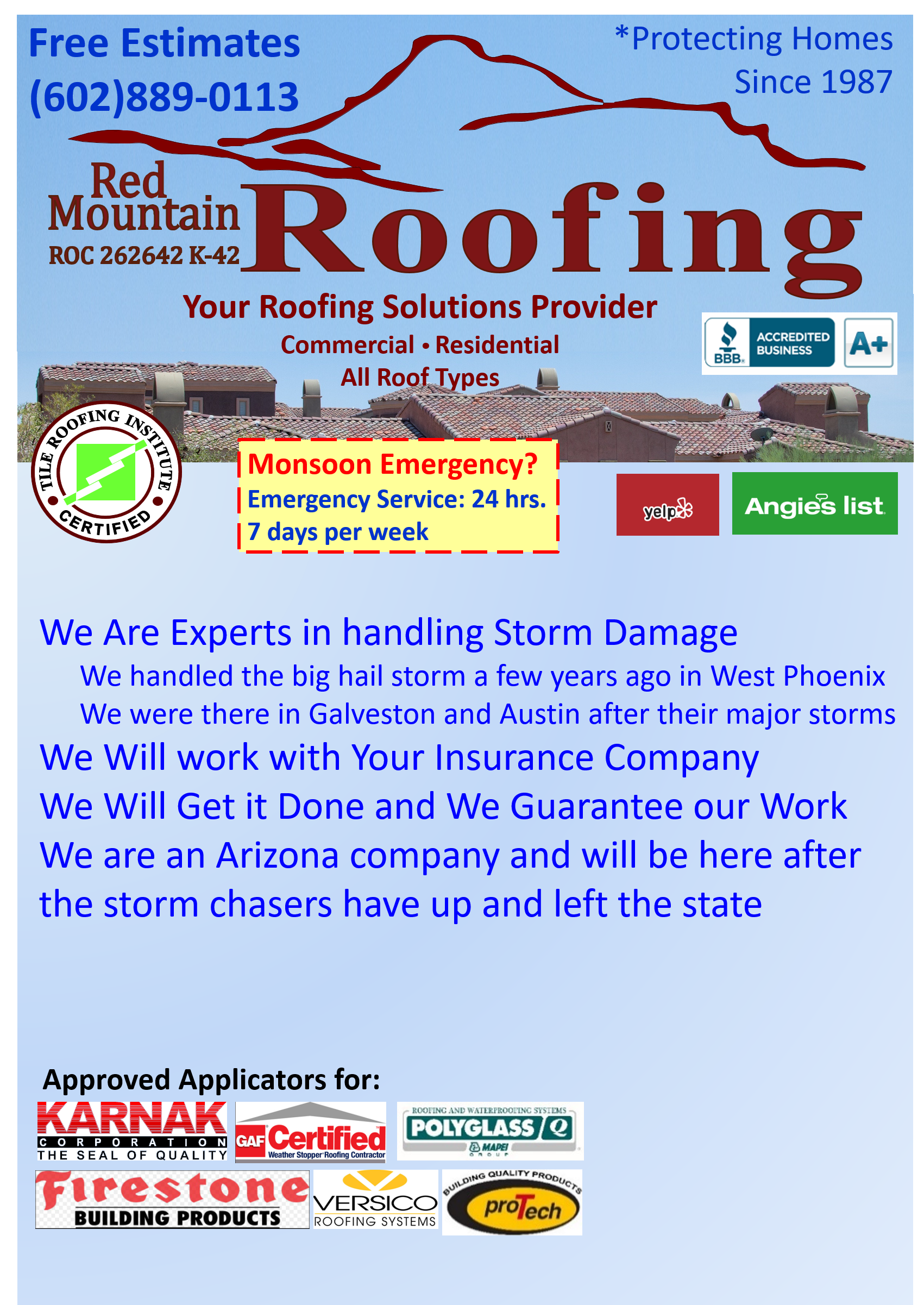 *** The Rain is here ! ! !  ***
Is Your Tile Roof more than 15 Years Old?
If the answer is yes, it's time to get your underlayment inspected to avoid the risk of costly repairs associated with a leaky roof.
Get Your Roof Checked Today!
(602)889-0113
Invalid Displayed Gallery
East 480-268-7379
Phx 602-889-0113
West 623-889-0138
ALL ROOF TYPES:  Tile, Shingle, Shake, Foam, Modified Membrane, Single-Ply Membrane, TPO, PVC, EPDM, Metal, Standing-Seam Metal, Below-Grade Waterproofing and more
Experience: Residential, Custom Homes, New Construction, Commercial, Storm Damage and more
Expertise: All types of low and steep sloped roofs
Red Mountain Roofing Value: At Red Mountain Roofing, we take great pride in the quality of our roofing solutions at reasonable costs. We don't just give you a roof, we give you a roofing solution that meets the highest quality in industry standards.
Cost Effective Solutions for All Roofing Needs

Fast Response

High Quality Workmanship

Highest Quality Control

Full Time Supervision on Every Site    
Don't wait for the storm!
Call us at (480)268-7379 or email us to schedule an appointment right away or just give us a call or email us to talk about any questions you might have about your roofing needs.
Founder & CEO, Chris Figueroa, has been Protecting homes since 1987
Licensed and Bonded: R.O.C. #262642